The Marmande Nuits Lyriques Choir
Together with the Orchestre des Symphonistes d'Aquitaine, the Choeur des Nuits Lyriques is an essential element in the success of the festival. Marie-Claire Mestres, Choir Director, knows how to federate and motivate her staff to adapt to opera productions but also to produce concerts and recitals scheduled as part of the Nuits Lyriques.
Recruitment is by audition. It is not necessary to know how to read music to sing well!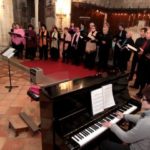 Join the Nuits Lyriques Choir!