LES AMBASSADEURS DES NUITS LYRIQUES​
The Donors' Circle
of the Association du Festival Lyrique en Marmandais
Your support will help improve the artistic programming of Les Nuits Lyriques (Gala Evening, Opera, Recitals,…) and will increase our ability to engage young artists in lyrical works presented in public.
YOU DEDUCT 66% OF YOUR DONATION FROM YOUR TAXES!
A DONATION OF 100 € ONLY COSTS YOU 34 €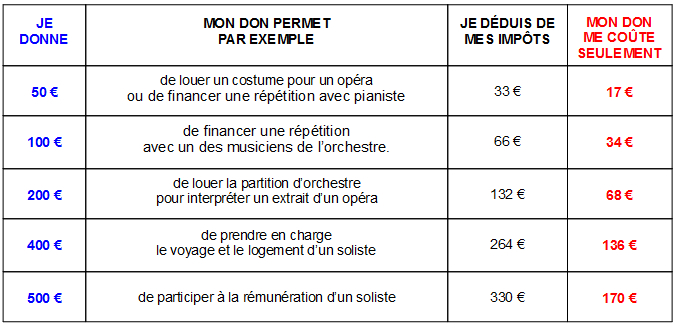 Upon receipt of your donation, a tax receipt will be sent to you to allow you to obtain your tax reduction.
To qualify for the tax reduction, the donation must be made free of charge, without any direct or indirect consideration for the benefit of the person making it. By way of derogation, the tax authorities allow the donor to benefit from a counterpart provided that it is small and disproportionate in relation to the amount of his donation (less than 25% of the donation and a maximum valuation of €65 per year). Within this limit, Les Nuits Lyriques de Marmande will grant its donors small benefits during the event.